Speakers
Every year the game changes, the technology expands, the market grows, and food manufacturers are forced to innovate in order to keep up with the rest of the industry. With decades of combined experience in the food manufacturing industry, our lineup of speakers brings tales of success, innovation, growth, and thoughts on the future of food manufacturing in Canada and around the globe as skills and technology continues to change the way food makes its way to our tables. What are the next 10 years going to look like? Join us to find out!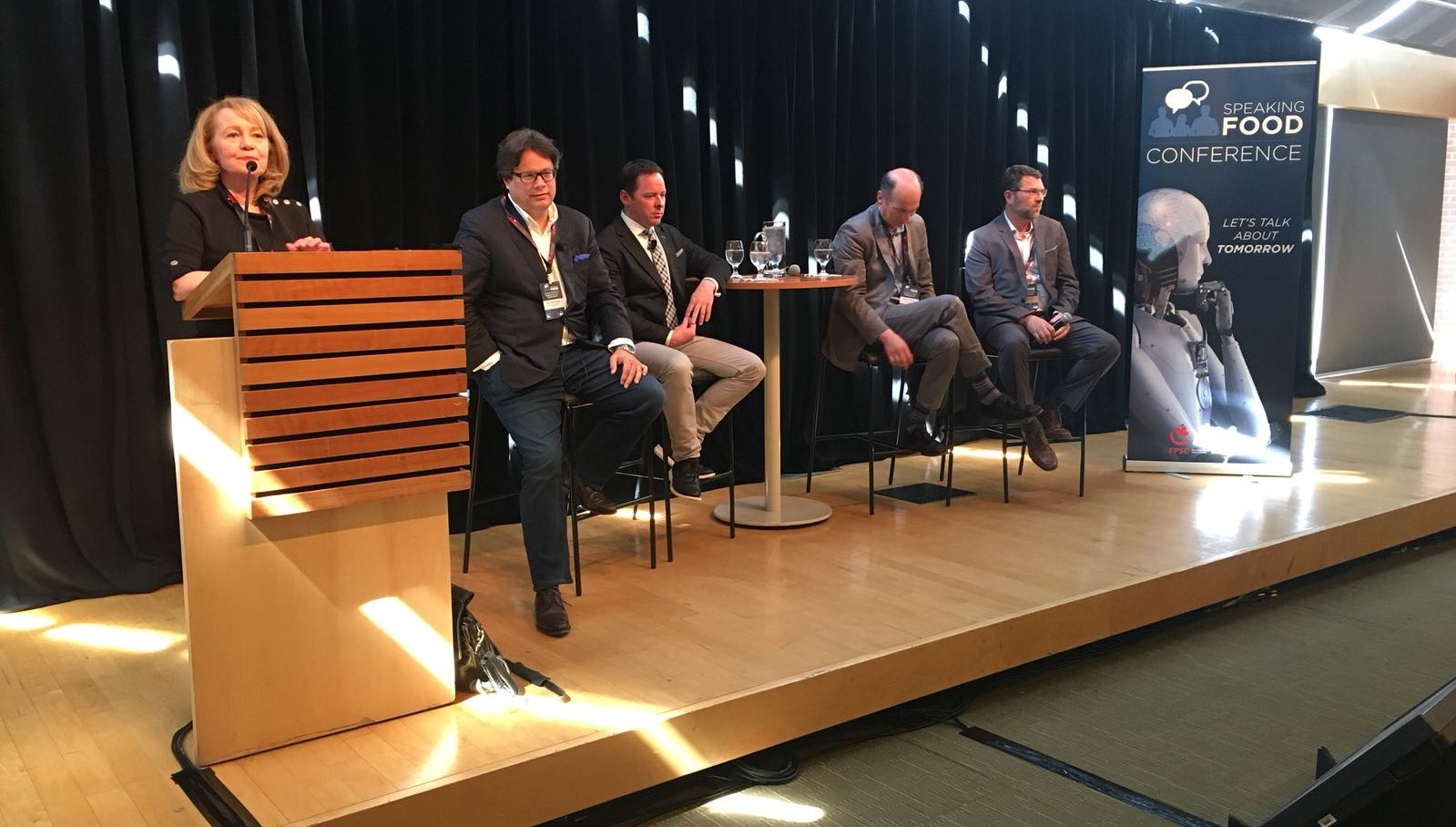 2019 Speakers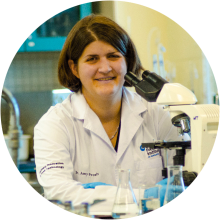 Amy Proulx, PhD, Professor, and Coordinator of Culinary Innovation and Food Technology
Canadian Food and Wine Institute at Niagara College
The Next Ten Years of Food
Amy Proulx, is a professor at Niagara College, Canada, and coordinator of the Culinary Innovation and Food Technology Program at the Canadian Food and Wine Institute. She acts as research leader at the Niagara College Food Innovation Centre, where she and her colleagues provide technical, regulatory and product development support to the food and beverage manufacturing sector, and conduct research in culinary, food science, brewing and winemaking.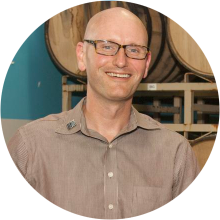 Chris Seals, CEO and Co-Founder
Still Austin Whiskey Co., Austin, Texas
Building Austin's First Bourbon Distillery from Grain to Glass
After graduating from the University of Texas at Austin and earning an MBA from the University of Houston, Chris spent 15 years working as an economist helping regions plan to be sustainable and reduce their carbon footprints. What ultimately called him back to Austin and into the world of distilling was the thing that serves as our root: family. In 2013, Chris's father presented the idea of opening a whiskey distillery together as co-founders and partners. Chris moved back to Austin that year to start Still. He saw Still as an opportunity to build a closer relationship with his father and decided to take a leap of faith into a new career. Chris's biggest mentor in the distillery business has been his father, followed by distilling legend, Mike Delevante. When he's not busy making whiskey, Chris trains for marathons and enjoys beekeeping. He and his partner Jay have five children together. They enjoy traveling and as a family, try to visit a new country every year.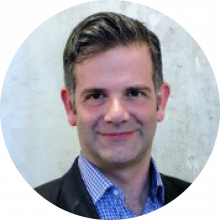 Mark Patterson, Executive Director
Magnet, Ryerson University, Toronto, Ontario
Preparing Canadians for Tomorrow with "Future Skills Centre"
Mark Patterson is a changemaker pioneering new approaches in career development, inclusive recruitment and contextualized labour market information to drive social and economic change. For more than a decade, he has focused on providing opportunities for diverse job seekers and addressing the needs of employers. As Executive Director, Mark leads the creation of Magnet, a social innovation platform based at Ryerson University. A first-of-its-kind in North America, Magnet harnesses intelligent matching technology, data and analytics to effectively connect people, businesses, and organizations to opportunity; with the singular goal of helping regions and communities collaborate and grow. Magnet provides the digital infrastructure for Canada's new Future Skills Centre, a forward-thinking research centre with a focus on how to best prepare Canadians today for workforce opportunities of the future.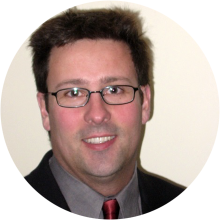 Chris Thomas, Principal
The Classic Business Consulting Group, Calgary, Alberta
Recruitment and Retention in the Food Processing Industry: Everything New is Old Again
Chris has fifteen years experience in the development and application of organizational effectiveness strategies, with particular focus on recruitment and retention programs. He has been recognized by industry and in the media as a specialist in the areas of recruitment, retention, temporary foreign workers, labour forecasting, and more. Chris has been invited to provide input to Governments both in Canada and abroad on a number of regulatory program and policy changes related to human capital. After conducting 10,000 interviews with candidates from over 120 countries, Chris is regarded as an expert in the field of multi-national and intercultural recruitment. Chris brings a unique background and proven experience to your business.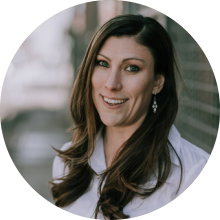 Kimberly Stuck, Founder
Allay Consulting, Denver, Colorado
Cannabis Edibles- Food Safety Stories From the States
Kimberly Stuck was the first Marijuana Specialist for the Denver Department of Environmental Health and therefore the first Marijuana Specialist for a public health authority in the Nation. Conducting compliance inspections, license sign offs, running pesticide investigations, writing press releases, conducting recalls, conducting shelf stability and CBD source approvals, she's done it all. The industry lovingly started calling her the "weed-whacker" primarily because she has disposed of ~28 million dollars of Cannabis/ Cannabis products in 2016 alone due to non-compliance. She has greatly helped Colorado develop requirements and has also helped California Department of Public Health (CDPH) develop their regulations. She has knowledge of all local, state and federal cannabis and health regulations. During the years as a regulator she grew a love for the industry and the people in it. While working as a regulator she noticed a huge gap in the industry when it came to Compliance Consultants. She knew she could make a huge difference and save Cannabis companies millions through active preventative measures if she started her own company, and has been named one of the 13 women who will may help shape the cannabis industry. With the support of Industry and regulator friends she decided to launch Allay Cannabis Consulting. Allay Cannabis Consulting's goal is to help the cannabis industry thrive on a global scale.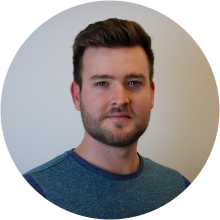 Harrison Olajos, Chief Executive Officer
UP360 Infinite Possibilities, Brockville, Ontario
The Innovation of VR and Experimental Training
Virtual Reality and Mixed Reality have the potential to change the workplace as we know it. CEO and Founder of UP360, Harrison Olajos, is on the front line of this shift as his company develops a series of virtual reality tools designed to enhance the career decision-making process, better prepare people for the workforce and support front line workers.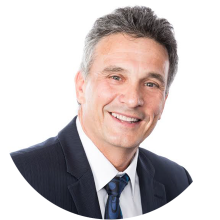 Kelly J Lendsay, President and Chief Executive Officer
Indigenous Works, Saskatoon, Saskatchewan
New Recipes for Indigenous Engagement
Kelly is going to share with us his insights on the power of truth and reconciliation, corporate calls to action, and how people and organizations embrace a spirit of economic inclusion. He will share some new research insights that are reshaping the way we think about corporate-Indigenous partnerships in Canada. You are going to hear about some practical tools and strategies for creating better inclusive workplace designs and performance.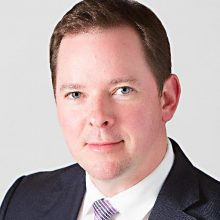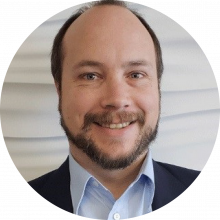 Elliott Gauthier, Vice President and National Director
Hill + Knowlton Strategies, Ottawa, Ontario
Kevin Elder, Project Manager of Labour Market Information
Food Processing Skills Canada, Ottawa, Ontario
Labour Challenges and Pathways to Solutions
Join Kevin and Elliott as they take you through a series of Labour Market Information (LMI) Studies. These recent FPSC studies outline in detail the labour challenges that exist in Canada for the Food Processing Industry, and position recommendations on how to address these challenges. In addition to the study of the labour tightness in the industry, Kevin's research looks at the pool of potential new workers, with a focus on New Canadians, Indigenous Canadians and Millennials.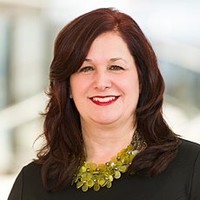 Kathleen Sullivan, Chief Executive Officer
Food and Beverage Canada, Ottawa, Ontario
Skills and Labour Panel Discussion
Kathleen Sullivan is one of Canada's most dynamic agri-food industry leaders. She is a public affairs and regulatory expert, industry advocate, proven association executive and lawyer with a successful 20+ year career. In August 2018, Kathleen was appointed as CEO of the newly-formed Food and Beverage Canada – Aliments et boissons Canada – an organization representing Canadian food and beverage processor businesses located in urban and rural regions across the country. Kathleen has a Bachelor of Commerce degree from Carleton University and a law degree from the University of Western Ontario.
Kathleen will oversee the panel discussion brought to you by Food and Beverage Canada.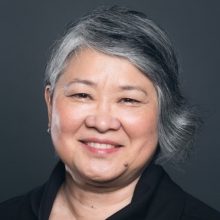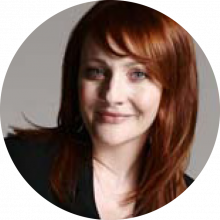 Susan Grifone, Principal of Grifone Consulting Group
Grifone Consulting Group, Vancouver, British Columbia
Trina Davies, Principal, TL Davies Consulting Group
TL Davies Consulting Group, Vancouver, British Columbia
Long-Term Competitiveness Skills Strategy
Susan and Trina will explain what the competency framework is, how it relates to occupational standards and essential skills, and how these foundational resources can be used to assist in developing a trained labour force, promoting the food processing industry as a career, and as a resource for the industry.
Susan Grifone, principal of Grifone Consulting Group, provides expertise in occupational analysis, essential skills profiling, technical writing, and curriculum development. She has worked on national and international projects that have developed occupational standards, essential skills profiles, competency frameworks, and curriculum for a wide variety of industries, including diamond polishing, mining and mineral processing, construction, retail grocery, early childhood education, environmental monitoring, and events management. Susan has worked on various Food Processing Human Resource Council projects, including the FPHRC competency framework completed last year. Her work has taken her across the country, from Vancouver, to Tuktoyaktuk to St Johns' NFLD, and to the Caribbean, Singapore and Vietnam. Susan has toured diamond and gold processing plants and climbed to the top of a 90-foot crane. She has worked with hundreds of industry experts from all walks of life, from diamond polishers to hotel managers. Susan and her family lives in the beautiful Okanagan of BC.
Trina has been working in the area of human resource development since 1996. She is the Principal of TL Davies Consulting Group, a full-service organization that tailors its work to the needs of its clients. Building upon skills acquired while completing successful projects around the world, the team draws upon its diverse and comprehensive abilities in human resource development to design specific approaches for each new challenge. Trina and her team are certified Essential Skills Profile (ESP) Analysts, DACUM facilitators, Occupational Language Analysts (OLA), and technical writers. Trina has trained professionals across Canada and the world in the areas of occupational standards development, training development and delivery, performance evaluation creation, and written test creation. She has worked on international occupational standards, training and certification/evaluation projects in Chile, Mexico, Bulgaria, Romania, Singapore, and across the Caribbean. www.tldavies.com
Featuring our MC's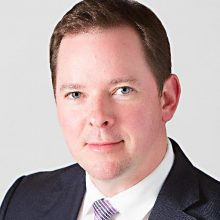 Elliott Gauthier, Vice President and National Director
Hill + Knowlton Strategies, Ottawa, Ontario
Master of Ceremonies
Elliott is a leader of innovative mix-mode and cross-disciplined research methods. As Vice President and National Director of the Research and Analytics practice at Hill+Knowlton Strategies Elliott delivers deep insight into client audiences by combining social intelligence analysis, big data techniques, and quantitative and qualitative market research methodologies. Elliott is an accomplished methodologist with particular expertise in cross-disciplinary methods, recruitment techniques and segmentation models. Elliott oversees hundreds of research assignments each year at H+K, providing robust analysis, detailed presentation of findings and strategic insights and recommendations based on credible, reliable and innovative research methods. Elliott has extensive experience working with boards of directors and executive leadership teams to unpack the meaning of research findings and uncover how to position the research in support of their objectives. Elliott has over 15 years' experience in senior-level positions in the research industry. Immediately prior to joining H+K, Elliott was co-founder and chief operations officer (COO) of an innovative and successful research consultancy based in Ottawa. In this capacity Elliott oversaw hundreds of research assignments a year, along with company operations, business development and client relations.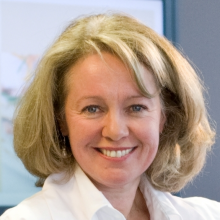 Darlene MacDonald, Maple Leaf Foods, Mississauga, Ontario
Maple Leaf Foods, Mississauga, Ontario
"A Toast to 10 Years" Award Luncheon Host
Darlene MacDonald, Senior Director Think FOOD!, joined Maple Leaf Foods in March 2009 to launch the Think FOOD! centre and to support the company's drive for innovation. In 2014, Darlene's responsibilities expanded to include Consumer Insights and Sensory testing. Darlene brings more than 20 years experience in organizational development and change management to her role, having worked in North America and Europe with food and research companies. She holds a Master's Degree in Intercultural Communication and is a self-confessed "foodie"!